REDSTAR Cast steel floating ball valve simply structure, good sealing, but ball support will transfer to sealing ring of outside. so floating ball valve suit for middle pressure or low pressure service.
Floating ball valve have two piece and three piece structure.
Full bore and reduce bore
Soft seat and metal to metal seat
Flanged ends, Butt welding ends, RTJ ends
Lever op.Gear Worm, Electric actuator, Penumatic Actuator etc.
Cast Steel Floating Ball Valve
Application:
Applicable Medium: Water, Gas, Oil, and Corrosive Medium such as Acids, Alkalis etc.
Applicable Temperature:-196~350°C
Driving Methods: Manual, Pneumatic, Electric, and Hydraulic
Products Specification:
Size: DN 15~250 (NPS 1/2"~10")
Side Entry Design, Top Entry Design
Bolted Body
Full Bore Or Reduced Bore.
Flanged End Or Welding End

Double Block And Bleed

Locking Device
Structures:
Single Piston Effect , Double Piston Effect
Automatic Internal Relief Of Body Pressure
Emergency Sealant Injection System
Fire Safe Design. Antistatic Device
Anti-Blowout Stem Design
Body Vent Device
Stem Extension For Underground Service
Major Parts and Materials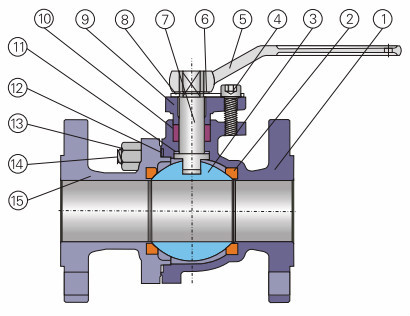 Note:
The dimension of connecting flange can be design according to customer's requirements.